Man, things really had money poured on them for this season. The little hole in the wall theatre has had some upgrades so it's a lot bigger and glitzier. The backstage now consists of a whole restaurant style thing plus the regular table and dressing rooms. In one episode they even took the show to a trainstation and had it there. Everything just screamed "more money, hurray!".
I have not previously listed out who starred in each episode, but the star power really went up (money, money, money) and I think I'll include it this time around.
Episode 301: Kris Kristofferson & Rita Coolidge
Episode 302: Leo Sayer
Episode 303: Roy Clark
Episode 304: Gilda Radner
Episode 305: Pearl Bailey
Episode 306: Jean Stapleton
Episode 307: Alice Cooper
Episode 308: Loretta Lynn
Episode 309: Liberace
Episode 310: Marisa Berenson
Episode 311: Raquel Welch
Episode 312: James Coco
Episode 313: Helen Reddy
Episode 314: Harry Belafonte
Episode 315: Lesley Ann Warren
Episode 316: Danny Kaye
Episode 317: Spike Milligan
Episode 318: Leslie Uggams
Episode 319: Elke Sommer
Episode 320: Sylvester Stallone
Episode 321: Roger Miller
Episode 322: Roy Rogers & Dale Evans
Episode 323: Lynn Redgrave
Episode 324: Cheryl Ladd
The biggest thing I found out was that Dale Evans was a woman. I also enjoyed just how varied everything was. The stars didn't overpower the show. and in some cases only showed up for 1 or 2 scenes. This really was the Muppet Show. Statler and Waldorf, the grumpy old critics even get into a fight with a guest but thankfully they lose. It was just so perfect though. Their bad jokes just make me laugh.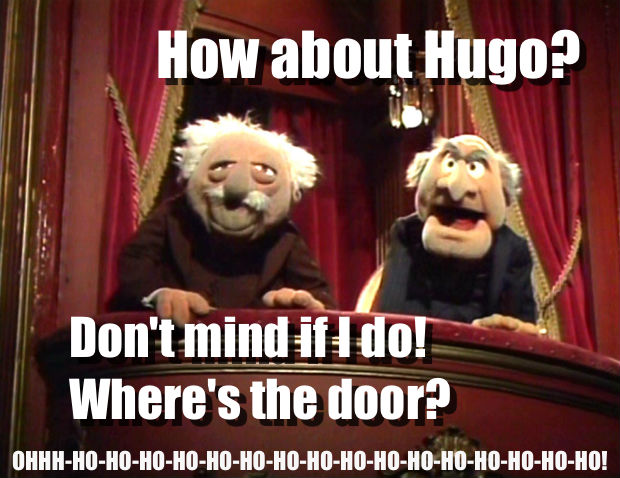 This came on 4 discs and I'd watch a whole disc at once. Pop in the dvd and let 6episodes just wash over me. Good times! I also watched the bonus content on the final disc. It was a rather long PBS'esque thing by Jim Henson about puppets. You could probably learn more about puppets than you ever wanted to know.
While it was all enjoyable, I did not like the increased glitz and glamor to the theatre or the addition of "more" to everything. This felt like the cusp of the Muppet Show making it big and I'm always leery of something filled with downhome charm and bluster becoming successful among the plebes.