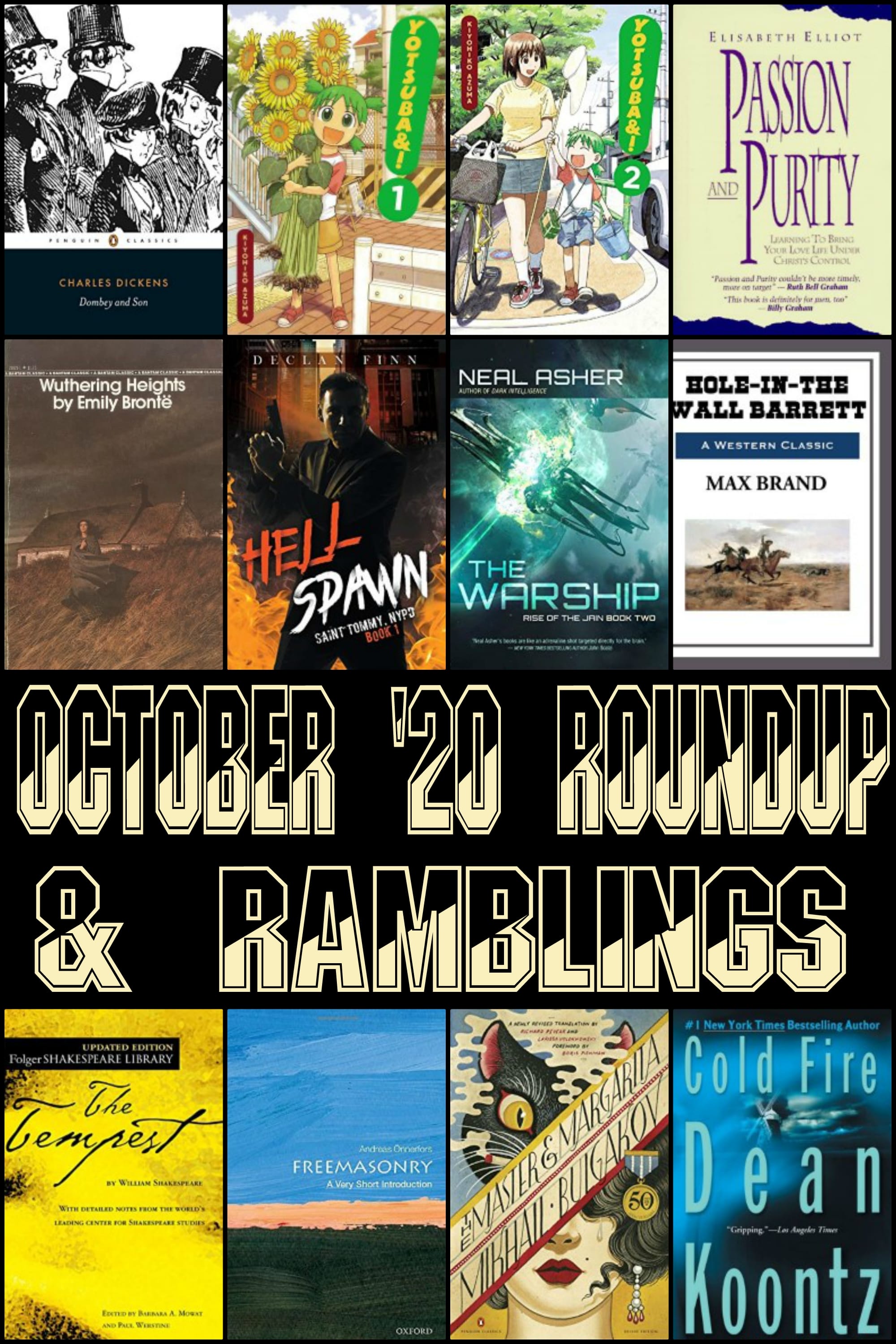 Raw Data:
Books – 12
Pages – 3662
Words – 1125K
Average Rating – 3.75
The Bad:
Cold Fire – 1 Star
The Master and Margarita – 1.5 stars
The Good:
Dombey and Son – 5 Stars
Movie:
Howl's Moving Castle was a good movie without any scariness to bother me. I don't care if it's Halloween this month, no scariness for me!
Miscellaneous Posts:
Personal:
This was a pretty good month overall. Reading wise, another out of the ballpark average! Unbelievable!!! Helps that Yotsuba is just about guaranteed to be 5 stars each read. Plus I had several other 5 star reads. The end of year has been pretty generous to me with all the 5stars I've been reading recently. Thankfully, the lower rated books have pretty much slid off my back like water and it's not bothered me one bit. Used to be, a 1 star book would get me into the doldrums or downright depressed. With these, eh, whatever. I rather like that to be honest.
Of course, that week in the middle of the month with sickness, car problems and everything sucked the joy out of the month but both Mrs B and me are at the stage of life where we just put our heads down and keep on trucking, knowing things will get better. Or we'll die, which is the best case scenario we could ask for!
The best performing post this month was the "When Do You Stop Following" post. That got a LOT of comments and warmed the cockles of my heart. The one I had the most fun writing was "Psychic Grandma & the T200". I just let all the silly loose and it felt like the old days of blogging, back in my 20's. You know, when I had a full head of hair, boundless energy and dreams of becoming the Emperor of Mars? Of course you don't know that, none you read my blogs back then. And you can't now either, because I've deleted them over the years, hahahahaa! I wouldn't be the Mysterious Doctor Lord Bookstooge now would I?
Plans for Next Month:
Besides the usual #6degrees and movie, I'm hoping to do another crossover post with Masters of Ironing, to truly promote the art of Ironing. A true Master of Ironing doesn't need an iron OR even know how to iron. Remember, There Is No Iron, Neo.
Also going to try to do some Currently Reading & Quote posts to talk about the books I'm reading in a non-review way. Sometimes it's fun to just talk about a book WHILE you're reading it.
Oh, I will probably start thinking about End of Year stuff. That stuff always takes me forever to get together and the sooner I start, the less I'll have to deal with as New Years approaches.
Other than that, I'll try to keep things unstructured so if I feel like writing something out of the blue, I can. Us creative types needs our space. So BACK OFF buster, and let me be creative! Or I'll cry, I swear, I will. I'm warning you right now….