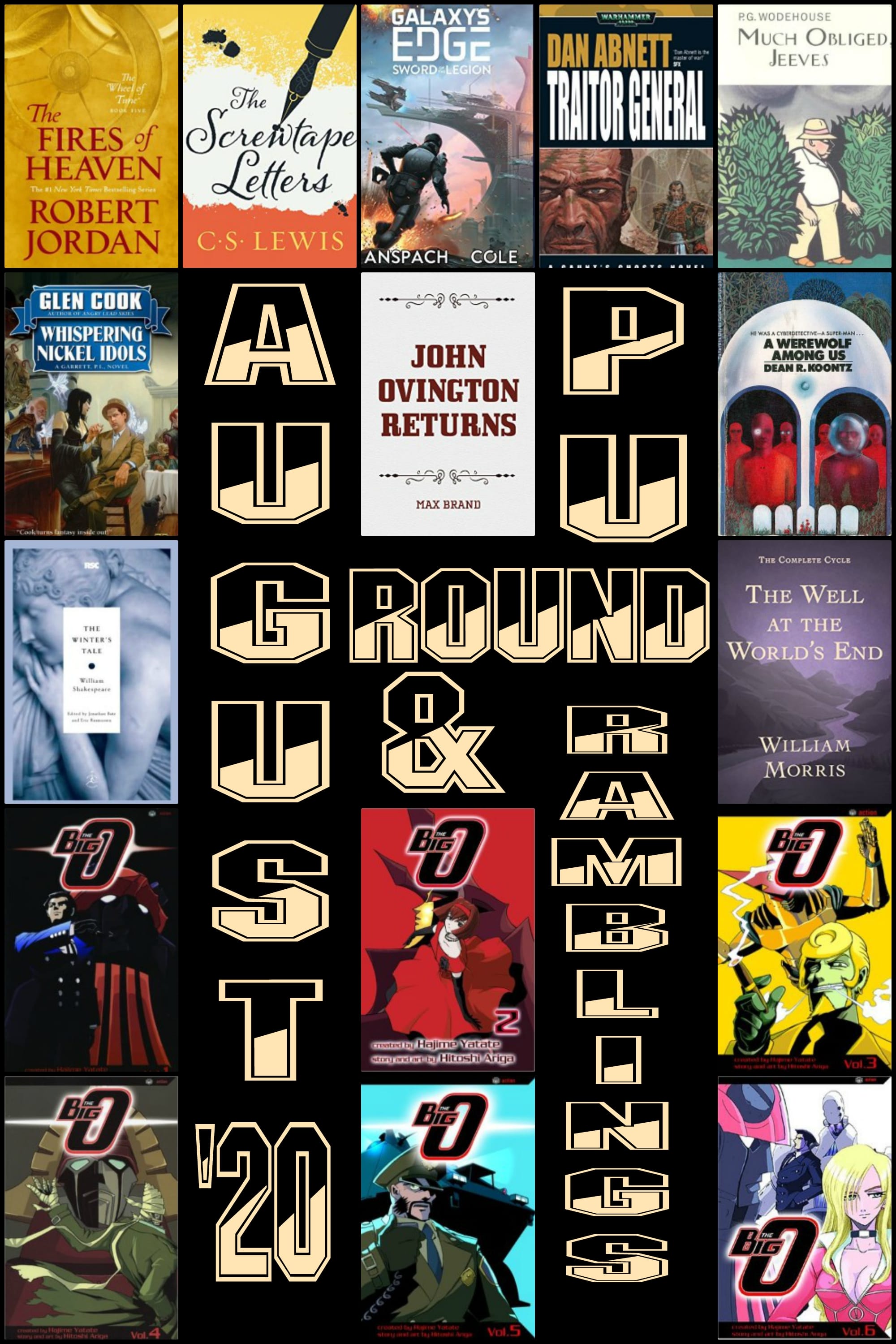 Raw Data:
Books – 16
Pages – 3968
Words – 895.5K
Average Rating – 3.0 Stars
The Bad:
The Big O Manga: The Whole Series
The Good:
The Fires of Heaven – 5 Stars
The Screwtape Letters – 4.5 stars
Movie:
Spriggan was a more successful foray into my anime collection. Next month will either be Place Promised in Our Early Days or Voices of a Distant Star. More anime, but of such a different tone from Spriggan that you might as well call John Wick the same as Casablanca because they're both "movies".
Miscellaneous Posts:
Didn't write nearly as much as I thought I would.
Personal:
While the title of my Vacation post might have led some to believe that there would be other King & Queen posts to follow, I was just too lazy. The vacation went as perfectly as I could have asked for. I didn't blog or work on my blog or do anything, as much as I thought I would. I spent a lot of time simply sitting and doing nothing, barely thinking. I didn't even realize I needed that until I found myself at my sister's pool one day looking at the sky for about an hour without having thought a thing. Of course, I had to get back to reality once we got home, but that is the darkside of Vacations that we all know about but don't discuss. Both of us survived the weather just fine, so a possible move in the future isn't out of the question any more. Pretty much spent the rest of the month wishing we were back on vacation. Sad but true.
Took a short break from interacting online near the end of the month. Sensory overload was just too much. Thankfully, pizza and books helped me cope and Mrs B and I had some more good "connection" times. During that week I did a lot of work on the blog and got a lot of old reviews posted.
Plans for Next Month:
Tomorrow I plan to blog about how this month of using the block editor went. #Blockeditorsucks ! (hint, it isn't good)
Read BETTER books! I can't believe my average for this month was a paltry 3 stars. The blame is squarely all on Big O but that DNF for The Well at World's End didn't help either, sigh.
I feel kind of overdosed on manga, as Big O was just such a disappointment. As such, I'm going to start the Yotsuba&! series. I'm going to take a break from manga in September though and start it back up in October.
I'm going to try to bulk up my numbers in terms of books read, so be prepared for a few extra book reviews and a few less non-review posts. End of the year is fast approaching.
See you tomorrow.